On the health agreement struck at national cabinet this morning, NSW Premier Dominic Perrottet said it was "incredibly pleasing" to have been able to reach a degree of resolution.
Prime Minister Anthony Albanese announced the extension of a national partnership on health funding until the end of the year, a measure which will cost about $760 million.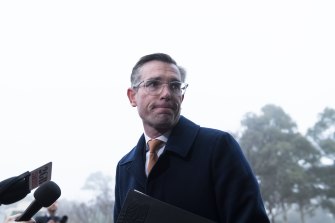 "This is something that has been in the too hard basket for too long," Perrottet said.
"I think there is great opportunity for substantive reform in that space because the prime minister has said this is not about money, it's about working together on substantial reform and I thought today's national cabinet was refreshingly collaborative."
Perrottet says there is no doubt every hospital is still under pressure from the need to treat people who have COVID-19 but also the longer-term effects of the pandemic, such as the backlog of surgeries.
Victorian Premier Daniel Andrews said there was plenty of goodwill in the meeting and the test now was for leaders and their departments to come up with practical ways to make the system as a whole work better.
Prime Minister Anthony Albanese says the pandemic clearly isn't over yet. But he won't be drawn on whether the special funding arrangements brought in at the height of the pandemic would be extended further beyond the end of the year.
"We've come to an agreement today based upon the circumstances we face in the health system," he said. "In June, you can't answer questions about December."