Behind the scenes: Carrie Fellner on her investigation into NSW regional hospitals
After 15 public hearings and more than 700 submissions, the NSW parliamentary inquiry into regional hospitals reported back last month. The inquiry, triggered by an investigation by Herald journalist Carrie Fellner, found that many doctors and nurses work in a culture of fear - where many are afraid to speak up about problems in the system. Here Fellner looks back at what prompted her series of stories.
It was early 2020, and in the back rows of the NSW Supreme Court senior journalists Jamelle Wells and Kate McClymont were conversing quietly ahead of the much-anticipated criminal trial of former Labor minister Eddie Obeid.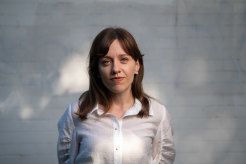 The pair both shared roots in country NSW as well as illustrious reporting careers at the ABC and the Herald respectively.
Wells opened up to McClymont about her world of private pain after the recent death of her father, Allan Wells, following hip surgery at a western NSW hospital.
She recalled the harrowing days she spent in a Dubbo hospital ward, powerless to intervene, as her father was denied food, water and basic pain relief such as paracetamol or morphine.
McClymont, appalled, urged her to act. As word filtered back to me in the Herald's newsroom, I was keen to take up the case and convinced Wells to meet me in a Sydney coffee shop.
Like most journalists, Wells was reluctant to become the story and was clearly nervous about stepping out from behind the curtain to share such deeply personal events.
But she was dogged in her desire to shine a light on the NSW hospital system that had failed her beloved dad.
Keen to see and understand the story for ourselves, photographer Janie Barrett and I drove eight hours to Wells' home town of Cobar in the state's dusty inland centre.
Doing laps of the town's main street, it didn't take long to stumble across a group of knockabout blokes who jokingly referred to themselves as "the coffee club", sunning themselves in their usual location outside Subway.
Their banter was playful but the stories they and other locals shared about the state of local hospitals were disturbing. After I published my first series of articles which focused on the western NSW towns of Cobar and Dubbo, the floodgates opened. I realised Allan Wells' death was at the crest of a very large iceberg.
I began pursuing tales of appalling dysfunction from all over NSW: a woman had bled to death in an emergency department with no doctors on site; doctors alleging the systemic cover-up of preventable deaths; and the death of a baby whose test results were among thousands that went unchecked.
Channel Nine journalist Liz Hayes drove further momentum as she courageously stepped forward to reveal her own father's preventable death in a hospital on the Mid North Coast.
A parliamentary inquiry was launched and captured the true extent of the crisis as it travelled around the state for 12 months, holding 15 public hearings and taking more than 700 submissions. I made it my mission to read every single one.
The stories that emerged were akin to something you might see in a developing nation: cooks, cleaners and gardeners stepping in to fill the void as the numbers of doctors and nurses dwindled to critical levels.
The inquiry's damning final report, handed down last month, comprehensively lays out the dysfunction in the system and offers a range of solutions, although it remains to be seen whether they will be implemented and with what success.
The next leg of my work will aim to hold our parliamentarians to account as they embark on that process.
I will also be probing unanswered questions about the report's claims that the NSW Health bureaucracy has bred a toxic "culture of fear" in which patients, nurses and doctors feel afraid to speak out about problems in the system.
In retrospect, it doesn't surprise me that it took journalists from Sydney to expose the crisis in bush care.
Deeply ingrained country stoicism and a fear of creating bad blood in close-knit communities has seen many patients afraid to rock the boat by speaking up. Sadly, several have faced retribution for their involvement in the Herald's stories.
For city patients, the hospital's general manager is a faceless bureaucrat; in the country, it can be your neighbour or your cousin. For city patients who have a traumatic experience, an alternative emergency department can be a few suburbs away; in the country, it's often hundreds of kilometres.
How does one elderly man's death affect an overhaul of the largest health system in Australia, a behemoth with an inertia to change and annual expenditure in excess of $57 billion?
It was a daughter's love for her dad, and her refusal to let the circumstances surrounding his death go, that compelled me to act.
And it was the immense response to the stories from subscribers like you that left policymakers with no choice but to respond, dispelling notions that readers in the cities are indifferent to the plight of their cousins in the bush.
Allan Wells, the man from Cobar who cared about everyone except himself, deserved nothing less.