Lightyear ★★½
(PG) 105 minutes
My first thought going into Lightyear was to wish Pixar hadn't bothered. As we have known him until now, the character of Buzz Lightyear needs no introduction beyond the one he received in the original 1995 Toy Story. One of that film's best jokes is his stubborn conviction he really was an outer space hero similar to Flash Gordon or Captain Kirk, rather than just a toy.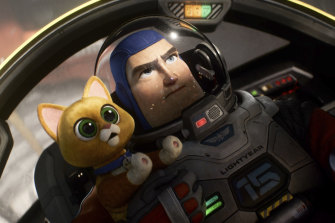 As for the mythology that led to his manufacture, everything we needed to know was there in his square jaw, bulky spacesuit and ideally idiotic catchphrase, "To infinity and beyond!"
Until now, children watching the successive Toy Story films have been free to imagine the rest however they pleased, give or take a direct-to-video spin-off or two. But this is Pixar, which is owned by Disney, and the IP was there to be exploited, so here we are.
Directed by Angus MacLane (Finding Dory), Lightyear is the origin story of the "real" Buzz – nominally the same movie that Andy, the kid in Toy Story, was watching in the 1990s, although this raises various questions it's best not to overthink.
The irony is that despite the character's commitment to exploring the cosmos, this proves to be a film all about getting trapped in one place. Now voiced by Chris Evans rather than Tim Allen, Buzz is part of a small community stuck on a planet far from Earth.
Like the Toy Story gang in each of their adventures, he's dedicated to finding a way home, via a series of trial flights where he strives and fails to reach "hyper-speed". When he returns from each attempt, years have gone by on the ground, although for him, it's only been minutes.
Before he knows it, a whole lifetime has flown by, depicted in a would-be tear-jerking montage transparently modelled on the one in Pixar's Up. This doubles as a chance for the studio to affirm their support for same-sex marriage without putting the relevant couple on screen for more than a few seconds.
From an adult perspective, what follows is an extension of the same ideological balancing act. Now marooned in time as well as space, Buzz becomes the self-appointed leader of a new, diverse squad of would-be space rangers, not wholly abandoning his alpha male bluster but gradually reassessing some of his views.
Culture wars aside, the plotting is fiddly without having the precision associated with Pixar in the past (the ending suggests either too many drafts or not enough). On the other hand, the sight gags are sometimes ingenious, and the intricate designs evidently come from a team steeped in the history of science fiction, drawing on everything from 2001: A Space Odyssey to 1980s Saturday morning cartoons.
In short, a typical product of the Disney-Pixar-Marvel-Star Wars complex, and far from the worst of its kind. But there's no question its makers are more concerned with spinning their wheels than with taking a leap into the void.
Lightyear is in cinemas from June 16.