Game subscriptions heat up as PlayStation joins the race
As Microsoft continues to expand its Game Pass service and Sony prepares to launch its new PlayStation Plus subscription in Australia next week, paying for video games could soon be similar to paying for Spotify or Netflix.
Game Pass and PlayStation Plus both give players access to an evolving library of hundreds of games to download on-demand for a monthly fee, from new blockbusters and off-beat indies to retro classics. And it's not just the two console stalwarts in the game either; Apple continues to grow its Arcade service across its mobile devices and computers, while Netflix has begun including access to mobile games in its regular subscription.
Ron Curry, CEO of the Interactive Games and Entertainment Association (IGEA), said the rise of subscriptions was good for consumers who didn't want to pay up to $110 per game, and it was good for local developers too.
"People have embraced the whole notion of subscription services, for books, for music, in Netflix and those sorts of services. So I think it's only natural they'll say 'I have other entertainment mediums that I engage with, and games is one of those. Why shouldn't I be doing that?'," he said.
"And it might help people experience a new genre, or a new developer, or a new style of gameplay, which is really healthy, particularly for upcoming developers," he said.
According to the IGEA, Australians spent $162 million on games subscriptions last year. The global games industry made around $250 billion from about 3 billion gamers in 2021, according to NewZoo.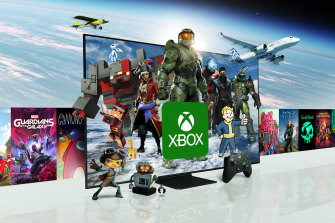 Game Pass is the most established offering in the games subscription space, recently passing five years in the market and 25 million subscribers worldwide. For $11 per month players can access hundreds of games on either Xbox consoles or their PC, including new Microsoft-published games as they release. Or for $16 per month they can play across consoles and PC, as well as streaming games from the cloud.
Soon Microsoft will also add the ability for subscribers to stream games they own from outside the Game Pass library. It also plans to pay smaller developers to create playable demos for their upcoming games.
The new PlayStation Plus has no cloud component in Australia, although it does internationally. Launching on June 23 for $19 per month or $135 per year, it gives access to a library of hundreds of games for PS4 or PS5.
There's also a Deluxe tier, where for $22 per month or $155 per year players get that same library plus additional perks, including dozens of original and remastered games from the PS1, PS2 and PlayStation Portable systems, and limited-time trials of new games.
Sony does not include its own games on the service when they launch, meaning dedicated players still need to pay full price if they want to play new blockbuster titles straight away.
Games not owned or published by Microsoft or Sony tend to move in and out of subscriptions, or need to be bought outright. Many gamers have expressed concerns about effectively leasing access to these games through subscriptions, with no recourse if one of their favourites gets removed from the service.
But while dedicated gamers — like dedicated film-watchers — may like to seek out very specific titles, subscriptions could appeal to a much wider base who just flick through the catalogue to find something to play.
Thomas Keene, a long-time console gamer from Melbourne, said Game Pass now makes up a big part of their play. Some of their friends use the service exclusively and don't buy games at all, they said.
"I can afford 15 bucks a month for dozens of games, trying new things I might not love and games I know I enjoy. But I can't afford 50 to 80 bucks for a single game, let alone more than one," they said.
"It still gives me anxiety, especially about not really owning my favourite games. But knowing that so many, especially ones Microsoft owns, aren't going to disappear any time soon helps."
Keene also has a PS4 that hasn't been getting as much love since Game Pass, but they said the upcoming PlayStation Plus could be a good excuse to go back and play some games they missed.
"I'd love to have both [Game Pass and PlayStation Plus] in theory, but based on the prices I'd have to strategically alternate services I think. It's a really good list of PS4 games."
'I can afford 15 bucks a month for dozens of games, trying new things I might not love and games I know I enjoy. But I can't afford 50 to 80 bucks for a single game, let alone more than one.'

Gamer Thomas Keene
Valerie Valentine, also from Melbourne, prefers to play on PC. She said she likes that subscription services make games more accessible to people who might not otherwise have played them, but would like to see more options that let players keep ownership of games.
"I don't like the idea of paying for temporary access. It's like renting from Blockbuster with extra steps. And companies being able to remove games from subscription lists, the same way Netflix can remove shows, seems a bit off to me," she said.
"But overall I like [subscription services]. I don't think they're the future we necessarily want or need, but it's the one we're gonna get."
More contentious than the idea of a subscription future is the idea of a streaming future. Microsoft and Sony have each positioned streaming as a way to expand their offering to people who might not want to invest in gaming hardware. Games are played on remote servers, with the sound and vision beamed to players' phones or computers over the internet.
Samsung has recently announced that its 2022 TVs will work with any Bluetooth game controller to stream games from multiple services, including Game Pass, meaning for example owners could play the latest Halo without a console or PC. PlayStation fans could even use their Sony controller to play Xbox games through their TV.
Valentine said she was not interested in streaming games like she might stream films.
"There's a fundamental difference. Games are interactive, and we notice the inherent lag from streaming. Local multiplayer has to become online multiplayer, and you can't buffer games the same way as you can movies," she said.
In a recent conversation about Xbox's plan for the next 20 years, Microsoft's CEO of Gaming Phil Spencer stressed that things such as Game Pass and cloud streaming are only designed to make up some of the options players have. Xbox games appear in subscriptions but can also be purchased individually, on consoles as well as PCs, through Microsoft's own stores as well as the likes of Steam.
"We're building a platform that can reach billions of players, whether it's on console, whether it's on PC. Whether it's through Xbox cloud streaming in a web browser, in an app, or on a device that's dedicated to playing games," he said.
"That's just fundamental to where Xbox is going - find as many players as we can, cultivate a community of amazing creators so that we have the most diverse, unique content available on our platform. And multiple business models for delivering that content."
A Sony spokesperson was not available to comment.
Get news and reviews on technology, gadgets and gaming in our Technology newsletter every Friday. Sign up here.
Most Viewed in Technology