The state government is unlikely to pull the trigger on emergency powers forcing coal companies to give fuel to electricity generators after the market operator advised that stability was returning.
NSW Treasurer and Energy Minister Matt Kean on Friday said the Australian Energy Market Operator (AEMO) had delivered "good news" that conditions in the state's ailing energy system had improved.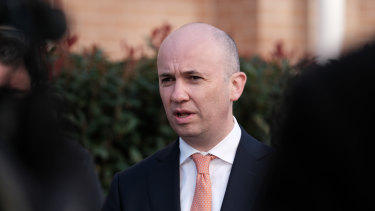 "AEMO have described the energy situation as much healthier and that's good news," he said.
"Generators that were offline have now come back online. We had a generator come online yesterday. That added 600 megawatts to the system that wasn't there the night before".
Another generator is also expected to come online again on Saturday, providing further reserve capacity.
Kean met the governor late on Thursday to seek emergency powers giving him authority to force coal and logistics companies to deliver fuel, amid concerns that stockpiles were running dangerously low.
It followed an intervention by AEMO this week to suspend the east coast electricity market to restore calm to the increasingly volatile grid.
Kean on Friday said he had been assured fuel stocks in NSW were secure, and had sought the temporary powers only as a precautionary measure.
"We're just putting those powers aside and on standby if we need them. As I said, this morning's update from [AEMO] gives me, and should give everyone, great confidence that we're out of those difficult conditions that we saw earlier in the week," he said.
"We'll take advice from [AEMO] if we need to consider using them, but that's not the advice ... everything is looking much better than it was earlier in the week."
The energy minister on Wednesday asked residents to minimise non-critical electricity usage between 5.30pm and 8.30pm. Although a short-term measure, he said it had made a "huge difference".
"What we were focused on is making sure that we were asking people to conserve energy, we were lowering the demand on the system," he said on Friday.
He blamed the state's ageing infrastructure for the energy crisis that resulted in the national market operator's unprecedented decision to suspend electricity trading for the entire east coast.
"These old bits of machinery, they're not as reliable as we'd like them to be, particularly when we need them during this time."
Kean appeared on Friday at the University of Sydney to announce a $270 million investment in biomedical research in next week's budget.
The investment will go towards two new facilities to help develop treatment for rare, life-limiting diseases.
Our Breaking News Alert will notify you of significant breaking news when it happens. Get it here.