'Disarmingly funny': The TV show that's so good it feels like a gift
Many TV creators will tell you they love their characters, and I'm sure they mean it. But nobody shows you that love quite the way Pamela Adlon does.
Adlon, who created FX's family comedy Better Things (with Louis CK, since departed), also writes and stars in and has directed every episode since season 2. Her directing style is naturalistic and intimate (she has cited John Cassavetes as an inspiration), capturing the tumult and passionate combat as her character, Sam Fox, raises three children as a single mother.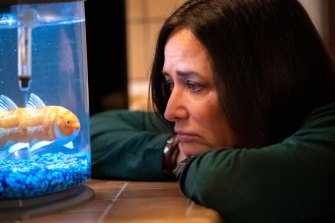 Adlon is also a portraitist. Early in the fifth and final season premiere, Sam comes across a photo of her oldest daughter, Max (Mikey Madison), now grown and moved out of the house. The scene cuts to Max, in her apartment, shot in almost exactly the same position, as if sitting for a painting. A later sequence with Sam's mother, Phil (Celia Imrie), breaks narrative flow to flash a series of striking black-and-white stills of her.
These little vaults into the iconic happen throughout the season. They're a way of showing us this world and its characters as Sam sees them: with full awareness of their flaws but also a sense of awe. Max, making a rocky transition to independence, is a constant source of agitation, but she is also, to her mother, a work of artistic creation. Phil infuriates and exhausts Sam, but she is also, as Adlon frames her, a survivor and an indomitable beauty.
Few shows on TV have funnelled as much complicated feeling through a camera lens as Better Things. And the terrific final season lets you have it at full blast.
For Sam, seeing things is increasingly her career. She's a former child star turned middle-aged working actress, successful enough to be recognised on the street but not so successful that she doesn't have to worry about the bills. Now she finds herself drawn to directing.
After a chance meeting, Ron Cephas Jones (playing himself) offers her a gig shooting an episode of his new sitcom, which he describes as being about "families, new beginnings and pain-in-the-ass kids".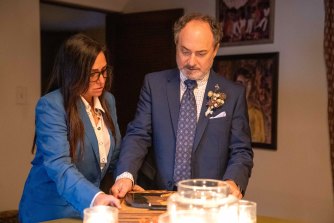 These are subjects that Sam knows a little bit about. Although the eventual shoot goes messily, directing is a good fit for her. She's someone who brings people together, sees them on their own terms and draws them out of themselves. She has also assembled a surrogate family, such as her friend, Rich (Diedrich Bader), who has a quasi-parental bond with the kids, especially Max.
To Sam, seeing is a duty of love. At one point, she officiates a wedding, asking the groom to promise to "take loving pictures" of his bride "while she's not looking". To care about someone, in Better Things, is to see them honestly — even unsparingly — but also to exalt them. You help them find their light.
The shift in Sam's career is one of several arcs that give the final season more plot structure than previous ones had. Max is going through a personal crisis she's afraid to share with Sam. Frankie (Hannah Riley), the middle child, is grappling with gender identity (while Sam adjusts to the idea of having three children rather than three daughters). The youngest, Duke (Olivia Edward), is getting hit by the moody sledgehammer of adolescence. And Sam and her brother, Marion (Kevin Pollak), are wondering how long Phil can continue to live on her own.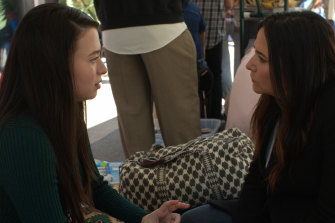 Scene to scene, though, Better Things remains a collection of moments and observations — Ephemera, to quote the title of the season's fourth episode, possibly the best the series has ever done.
What happens in it? Not much. Marion helps a wisecracking, resistant Sam with some financial planning. (When he guides her to check a box for "unmarried," she asks, "was 'spinster' not available?" ) Frankie talks pronouns with Sam, who deflects the subject with jokes. Sam, in turn, has a hard time getting Max to engage about her future plans as they visit the grave of Sam's estranged father. Meanwhile, Duke visits an antique shop, and the sight of all the unclaimed tchotchkes left behind by the dead distresses her: "I don't feel connected to anything!"
But of course, she is. Everyone is, and everything here connects invisibly. Sam's evasion and recalcitrance in one scene become, in another, the attitudes that frustrate her in Max. With each exquisite segment, the episode becomes about the cycle of time, about memorialising the past and planning, or evading, the future, and about, in Sam's words, being "part of a greater chain of history".
In other words, it's about the cosmic, a theme that wryly informs the whole season. The premiere opens with a sequence set to Galaxy Song, Monty Python's cheerfully existentialist ode to the absurd miracle of life. It ends with another musical bit, which I won't spoil, and a reflection on our place in an immense universe. In between, there's a lot of confronting of family secrets and inheritances, both literal and psychological. (Maybe because of all the focus on legacy and eternity, the final season also foregrounds the Fox family's Jewish culture more than ever.)
It's a lot of work, all this taking stock, and it brings all kinds of stuff to the surface. Over and again, there are scenes where a character gets the slightest poke and a whole flood gushes forth, as when Marion argues with Sam over her finances and suddenly ends up sobbing about how the charismatic Sam monopolised the family's attention when they were kids.
Don't be surprised if Better Things brings up a lot in you, too. I watched my screeners a few months after my mother died; my siblings and I had been going through papers and photos and knickknacks — ephemera — unearthing history and in-jokes. I'm sure the season hit me harder as a result. But Adlon's work is so full-feeling and disarmingly funny that it never feels like a bummer. It feels like a gift.
I've praised Better Things a lot since it premiered in 2016. But I sometimes worry that by describing its slice-of-life storytelling, I have made it sound too small. As this remarkable final season shows, it is anything but. Maybe everything here is dust in the wind. But there's another term for an endless collection of fragments and minutiae: We know it as the universe. On Better Things, through Pamela Adlon's eyes, it feels like home.
Better Things is on Disney+.
This article originally appeared in The New York Times.
Find out the next TV, streaming series and movies to add to your must-sees. Get The Watchlist delivered every Thursday.