Opinion
Stuff the federation: Dom and Dan's unlikely bromance
The pandemic years have not been a time of great consensus in Australia.
There were toilet paper wars in the aisle of our supermarkets and name-calling from state and federal leaders as state borders closed, then reopened and then closed again.
In many ways, the pandemic was the ultimate test of Australia's fractured federation, and it barely survived.
This is not a new problem, of course. Many prime ministers have attempted, without success, to revamp the federation and remove the duplication between Commonwealth and state responsibilities.
As former prime minister Tony Abbott put it in a 2014 speech: "That is what bedevils modern Australia in so many areas of our national life – who is really in charge?"
Abbott wasn't the only prime minister to mull over the state of the federation.
Former prime minister Bob Hawke, hardly a state government enthusiast, wanted them abolished altogether.
Keating took a different tack, establishing the Council of Australian Governments in 1992 as a way of dealing with the complex policy challenges and overlap between state and federal governments.
Fast-forward to Abbott who, prompted by concerns about duplication between state and federal governments, established a white paper process which was meant to reallocate responsibilities. While Malcolm Turnbull put forward a bold plan to allow the states to collect a share of income tax given their burning desire to spend it.
Before his election victory last month, Anthony Albanese also promised to deliver "a clearer delineation of who is responsible for what", making him the latest prime minister to dabble in repairing Australia's fractured federation.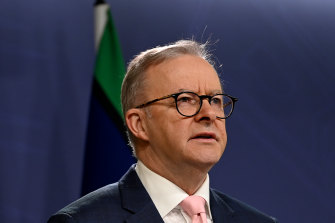 But the leaders of Australia's two most populous and prosperous states aren't going to wait.
Buoyed by Canberra's diminished authority during the pandemic, Victorian Premier Daniel Andrews and NSW Premier Dominic Perrottet have formed an unlikely alliance to push for transformational reforms to health funding, tax and childcare.
On paper, it would seem unworkable. Andrews is a progressive premier from Labor's Socialist Left faction and Perrottet, a conservative Catholic from the Liberal party's right.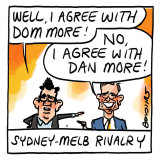 But their desire to be bold political reformers trumps rigid ideology.
The recent collaboration between the long-serving Labor premier and the relatively new NSW leader also flies in the face of the "rancid partisanship" that former prime minister Abbott once described as one of the drags on federalism.
The message within the Perrottet government is that there is also a power that comes from aligning with a Labor leader because it removes any partisan elements.
The way Dan and Dom see it, Victoria and NSW have similar populations, industries, and interests. Collaborating delivers policy outcomes and can be politically advantageous.
It also denies Canberra one of its strongest advantages in competitive federalism; leverage.
Speaking at the National Press Club in December, Perrottet spoke of his frustration after attending his first meeting of the former Council of Australian Governments as NSW treasurer. To summarise, he thought it was a waste of time.
Out if it sprung opportunity. Instead, Perrottet teamed up with Victorian treasurer, Tim Pallas, bypassing the federal government and setting up the board of state and territory treasurers.
In Perrottet's own words, it removed the "divide and conquer approach" Canberra had often brought to COAG meetings and saw the federal government "confronted with a strong unified voice".
More than 57 per cent of Australians live in NSW and Victoria. When the leaders of those states can put partisan politics aside and unite, Canberra has little option but to listen.
To leverage the Commonwealth in this way, there also needs to be a level of trust and respect between the two states.
In many ways Perrottet's personal relationship with Pallas was the catalyst for his bromance with Daniel Andrews. Last October, when Perrottet emerged as the frontrunner to replace Gladys Berejiklian as premier, Andrews turned to Pallas for an assessment of his new counterpart.
Political insiders working alongside both premiers say the relationship is more than strategic co-operation, but one of genuine affection.
"They are similar men and politicians," one Labor insider said. "Dom is a 'big ideas' kind of guy, they are both ideas-driven."
Perrottet is a little more overt in his affection for Andrews, telling The Age and Sydney Morning Herald "he's a great guy".
Andrews' office also see Perrottet's desire to collaborate as an endorsement of the Victorian premier. Andrews is undoubtedly a polarising figure, but Perrottet isn't afraid to team up with him on policy and reform.
Conveniently, of course, their political strategies also play to the parochialism of home audiences.
Both men know that voters will reward them for standing up for their states and fighting Canberra for a fair share.
Their bold reform agenda combats any perception of inertia for Andrews as he seeks a third term while allowing Perrottet to be viewed as a reformist premier.
It is no coincidence that both NSW and Victoria have elections within the next nine months.