The high-end apartments that cost $2.4 million to buy, or just $100 to rent
It's the brave new world of affordable housing – a luxury apartment block where some people are forking out up to $2.4 million for units and others are paying just $100 a week.
The building, the first in NSW to provide homes for private buyers living cheek-by-jowl with affordable housing and social housing tenants all under the same rooftop, has been hailed as a major step in helping solve the housing crisis.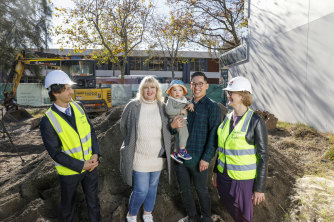 Michele Adair, the CEO of Housing Trust, which will be managing the social and affordable housing apartments, said: "We don't want the old-style 1950s and 1960s concentration of public housing tenants all being bunched in together, away from everyone else.
"This is a genuine attempt at having a mixed demographic where a real sense of community can be built between those tenants and private purchasers of apartments.
"So, kids living here will be immersed in the broader community and enjoy the same aspirations and education as everyone else, and that's particularly important at a time when we have both a prime minister and a governor-general who both grew up in social housing."
Work on the 54-unit mixed private and community housing building Northsea in the centre of Wollongong started on Wednesday and is hoped to be finished by Christmas 2023.
Six apartments have been allocated for affordable housing – for people such as nurses, teachers and emergency workers on low salaries who will pay a rent equivalent to 30 per cent of their income. Ten will be reserved for social housing tenants, such as people with health problems and disabilities or who have suffered domestic violence, paying 25 per cent of their income. The other 38 have been offered for regular sale for prices from $640,000 to $2.4 million.
The NSW Land and Housing Corporation put out a tender for the site – formerly an old social housing block – asking for a mix of housing, with a maximum of 30 per cent social housing in order to deconcentrate their tenants.
National developer Traders in Purple's proposal drew widespread support. Other developers have previously built apartments with a mix of private owners and community housing tenants, but housed in different blocks within the same complex.
Traders in Purple have two other such projects in the planning process in Sydney – in Padstow and Villawood – and hope it will be the template moving forward for mixing private and public housing.
The company's director, Charles Daoud, said: "It's a step forward in what's needed to solve our housing problems, and there are benefits in this that far outweigh any bottom-line figures.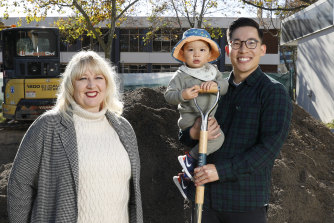 "It's wonderful to see the enthusiasm with which this has been embraced, and the difference it'll make to the lives of the people who live here.
"We need to solve the housing problems in this country, but we can't do it alone. Private developers can be a part of the solution, and we call on others to become involved in these types of projects. We'll happily give them all our IP and our secrets to making these work. We want everyone to help."
Purchasers have already snapped up 80 per cent of the two- and three-bedroom apartments for sale off the plan and have proved perfectly willing to live among less well-off tenants in the units owned by Housing Trust and the NSW Land and Housing Corporation.
Shellharbour Hospital pharmacist Dr Paul Tran, 31, has just bought one three-bedroom apartment for himself, his GP-in-training wife Elizabeth Nguyen, 33, and their 16-month-old son Pax.
"We loved the way the developer was so passionate about equitable housing and creating community among different sectors of the population," Dr Tran said. "Being of Vietnamese heritage and having parents who were refugees who lived in social housing before they were able to purchase their own home, we can see so many benefits."
Affordable housing tenant Jo Fisher, 51, who runs the University of Wollongong bookshop, was at risk of homelessness with her 11-year-old daughter Eva after her marriage finished.
"It's horrendous some of the housing problems people are dealing with," she said. "We have students sleeping in their cars because they can't find somewhere to stay.
"But at the same time, there are a lot of people still carrying a lot of shame because of the stigma attached to affordable and social housing. But by mixing all the different kinds of tenants and home-owners, a true community will end up growing."
The block will be on a site that once housed an old-style social housing development that has been cleared. "It's super-exciting to deliver a mixed tenure building in its place that will provide so many opportunities," said Deborah Brill, CEO of the NSW Land and Housing Corporation.
"Mixed tenure is absolutely the way forward. It won't be the only way, but it's absolutely part of the mix."
NSW Minister for Planning and Homes Anthony Roberts also attended the ground-breaking ceremony, and said that Prince Charles is a great supporter of mixed tenure developments.
"They drive better outcomes for everyone, and we look forward to continuing to deliver these kind of housing projects well into the future," he said.