The plants to grow for a sweet-smelling winter garden
Queen of the winter fragrances is the brown boronia, Boronia megastigma. This distinctly unregal little shrub is native to country around Albany in Western Australia, a region renowned for its nutrient-poor soils and the astounding floral biodiversity they produce.
Brown boronia flowers in late winter with little bell-like blooms of chocolate-brown petals with a yellow interior. No one is particularly thrilled by the flowers, but their fragrance is something else – lemony, sweet, spicy, earthy, complex. So good, in fact, that brown boronia is one of the most expensive perfume bases in the world, fetching $US100 per gram. (You've smelt it in Dior's Diorissimo and Ralph by Ralph Lauren as well as more recently in Boronia by Grandiflora.)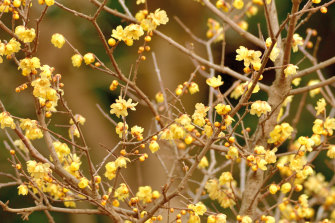 Sadly the plant is a right royal pain in the garden, where she is highly sensitive to wet feet, a damp breeze or the wrong amount of sun. Unless conditions are perfect, a pot is a better bet, where the mix, lighting and moisture can be better controlled. Look for the variety 'Heaven Scent', which is more compact than the original, growing to less than a metre tall and half a metre across.
There are other ways to throw open the doors to fragrance in the winter garden. If there is room for a shrub, make it wintersweet, Chimonanthus praecox, which holds tiny, beautifully scented, pale-yellow flowers on its bare branches through winter. It's not much seen any more, but if there are established old gardens in your neighbourhood you may smell it on winter walks and be inspired to add one to your own shrubbery. Allow two to three metres in height and width.
Another stalwart of the Sydney gardens is daphne, Daphne odora. The clusters of pink-backed ivory flowers can be picked to scent the whole house. Daphne prefers well-drained, rich soil and morning sun, often most easily provided in a pot. The new variety, 'Eternal Fragrance', is easier to grow than the original, and will take more sun, but is not quite as well perfumed.
Some winter perfumes don't need to be picked for enjoyment; the whole plant can be brought indoors. Sydney's native rock orchids have a delicious scent and need only a brightly lit, but not full sun, position to stay happy indoors while in flower. Keep an eye out for local orchid shows to pick up a plant either in bud, or in bloom.
The common old jasmine, Jasmine polyanthum, one of the most recognisable of Sydney's winter perfumes, also lives well indoors. In fact no less an authority than the Royal Horticultural Society listed it as an exemplary indoor performer. Give it a light, bright position, water when the mix dries out and don't feel bad about compositing it when the flowers finish. Avoid the impulse to find some spot for it in the garden though; you'll only regret it. Jasmine is strictly house-guest material.
Make the most of your health, relationships, fitness and nutrition with our Live Well newsletter. Get it in your inbox every Monday.