Opinion
The pros and cons of Rugby Australia walking away from New Zealand
Chairman Hamish McLennan says Rugby Australia are starting with "a clean sheet of paper" for Super Rugby in 2024 and beyond.
Talk of a split with New Zealand isn't new - in fact, many of the same issues were raised last year.
But, what would the implications be of Australia walking away?
There are pros, and there are some pretty significant cons. Let's start with the pros.
1. An Australian final every year, with an Australian winner
New Zealand critics of this concept just don't get it, but the Reds v Brumbies final last year produced a dopamine hit that Australian rugby fans could happily get addicted to. For a code that has struggled with self-esteem for many years, the sight of 40,000 at Suncorp Stadium to watch the Reds-Brumbies final in Super Rugby AU produced a genuine feelgood factor. Super Rugby Pacific means those scenes are likely to be the exception, rather than the rule.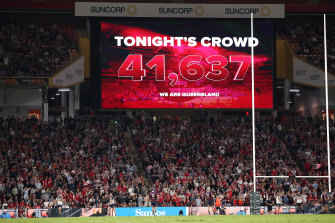 2. Control
From scheduling, to match official appointments, to rule changes, an Australian competition would allow RA to be relatively nimble in the face of intense competition from the NRL and the AFL.
3. Rivalries
The Blues v Brumbies encounters were spicy this year, and Dan McKellar was in fine form in the post-match press conference last week, delightfully refusing to bite his tongue. However, no trans-Tasman games have come close to replicating the obvious disdain between the Brumbies and Reds.
Brumbies second-rower Darcy Swain summed up the mood in Canberra earlier this year by implying the Reds had carried on like pork chops after winning Super Rugby AU.
For better or worse, that's the sort of chat that gets fans involved in Australia.
But, here are the cons.
1. Money
The elephant in the room. Who is going to pick up the shortfall from the reduction in money coming from across the ditch? RA might not be getting all that it wants from NZ Rugby's broadcast deal with Sky NZ, but the Herald understands it did get an increase last year after suggesting it would walk away. Those SANZAAR revenue splits are also misunderstood. The days of SuperSport in SA effectively bankrolling the competition are long gone - it hasn't been the case since at least 2016 (ask anyone who did the 2016-2020 deal). In that cycle, Argentina were given a flat fee and Australia, NZ and SA split the rest three ways - but that's because the 'big three' put roughly the same amount into the SANZAAR pot. So, RA isn't asking for a continuation of that deal, it's asking for something on top due to the lower deal it struck with Nine/Stan, the publishers of this masthead.
2. Australia would probably lose the Fijian Drua
This is a big one because it is often assumed that the Drua would go with Australia. However, after Super Rugby Pacific was confirmed, a well-informed source close to the Drua told the Herald that had there been a split, they would have gone with NZ.
Planning was already under way, with two locations on New Zealand's North Island identified as possible bases: Tauranga and Whangarei.
Has that stance changed? Possibly not, as the Drua were disappointed in the support they received for games in Australia this year.
They were expecting crowds of 5000-6000, but the average was 2000: that's why they shifted their last game from Queensland to Lautoka at relatively late notice.
It's certainly true that RA facilitated some government support for Fijian rugby, but a lot of the direct commercial and high-performance support has come from NZ Rugby, who worked with the Drua all the way through the licensing process.
3. The Wallabies coach doesn't want it
Dave Rennie has been crystal clear on this: he wants his players exposed to New Zealand opposition. Now, you could reasonably argue that the first item in the pro list overrides high-performance concerns, but Rennie would surely be lukewarm about preparing the Wallabies for the British and Irish Lions on the back of two domestic-only competitions. And what of the coaches below Rennie? Would it really spin Darren Coleman or Stephen Larkham's wheels to be on a repeat cycle of Australian derbies? The Waratahs got a taste of beating New Zealanders this year, and quite enjoyed it.
Watch every match of the July Test Series on the Home of Rugby, Stan Sport. Kicks off Saturday, July 2 with Wallabies v England, New Zealand v Ireland, South Africa v Wales and Argentina v Scotland. All streaming ad-free, live and on demand only on Stan Sport.