Almost a year after their cavalcade of triumphs in Tokyo, the Australian swimming team returns to elite competition in Budapest from Saturday at the FINA World Championships.
The meeting's late inclusion on the international calendar is reflected in the level of attendance from some of the biggest names in the sport. In the year after a draining Olympics and with the Commonwealth Games a month later, there are some serious holes in the roster of several leading nations.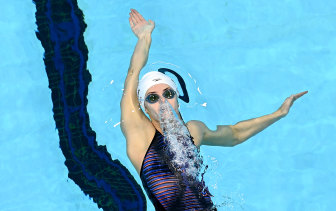 For Australia, Ariarne Titmus remains in Brisbane as she prepares for the Commonwealth Games. She had already decided to skip the meet before a late bout of COVID-19 but was less keen to enter the pressure-cooker of another 400m freestyle showdown with American great Katie Ledecky quite so soon.
And Emma McKeon, who set the pool alight on a record run in Japan, will wait until Birmingham to make her return to racing. The 28-year-old is treading gently towards Paris as she tries to defend her two individual golds, which were among four golds she claimed in Tokyo.
Cate and Bronte Campbell and Emily Seebohm, all senior athletes, are others taking a break from racing, but the Dolphins are still a fearsome outfit and their depth is impressive. These sorts of meetings can be the making of future Olympic champions and that could well be the case in Hungary.
Australia's women are stacked with established and rising talent, headlined by twin Tokyo backstroke champion Kaylee McKeown. She will use Budapest and Birmingham to add the individual medley events to her program, swimming the 200m IM at worlds and the 400m IM at Comm Games on top of her 100-200 backstroke staples.
McKeown is a world-class racer in both of the multi-disciplinary and and these meets are the ideal hit-outs as she roars towards her second Olympic Games.
Looming large on the radar is pocket dynamo Mollie O'Callaghan, who will be one of the favourites in the 100m-200m freestyle events given the likes of McKeon are on dryland. She had a breakout week in Tokyo, before being controversially left out of the 4x200m freestyle final, and she stands to explode out of the pack across the double championship meets.
Perhaps the most intriguing athlete for the Dolphins is Shayna Jack, who has returned from a two-year ban for a doping offence to regain her place in the green and gold. Jack has unfinished business at the World Championships after being sent home before the 2019 edition in South Korea when she returned a positive test.
She always argued her innocence and her persistence paid off when her ban was halved on appeal. Now she gets an individual spot in the 50m and 100m freestyle and will feature in some relay rotations that are strong chances to medal.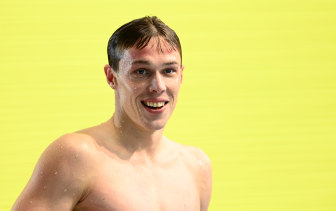 Zac Stubblety-Cook leads the charge for the male swimmers after winning 200m breaststroke gold in Tokyo, then breaking the world record at the recent Australian Swimming Championships in Adelaide.
The Chandler athlete looks unbeatable in the event and will be heavy favourite to win gold in Budapest and Birmingham. With some sharper competition certain to spur him on, expect him to lower his world mark once again over coming months.
Others are looking for redemption and resurgence. Elijah Winnington was the 400m freestyle favourite in Tokyo but couldn't conjure his best when it mattered. The disappointment sent him spiralling into a state of 'semi-depression' but he returned in fine style at the trials and wants to deliver on the big stage.
Joining him will be Mack Horton, the 2016 Olympic champion in the 400m freestyle, who missed an individual swim in Tokyo, prompting him to move from Melbourne to the Gold Coast and join the glittering squad of Michael Bohl. The improvement has been immediate and he wants to get back to the international podium.
Other new faces ready to take significant steps include distance freestyler Lani Pallister and even Kyle Chalmers, although the freestyle spring heavyweight needs little introduction. But in this case, he's changed strokes to the 100m butterfly, which he will swim in Budapest in lieu of his regular 100m freestyle.
Nine's Wide World of Sports will dive in to broadcast the 19th FINA World Championships in Budapest, exclusively Live and Free on 9Gem and 9Now from Saturday, June 18.