Updated
first published at
Frustrated parents have lashed a decision by Bondi Beach Public School to prohibit outdoor play before school, warning that children are missing out on vital exercise and interaction after months of disruption.
In a letter sent to a parent who raised concerns about limiting outdoor play on school grounds, Paul Owens, from the Bondi Principals Network, said the principal and school executive was "evaluating a focus on quieter and semi-active social interaction prior to morning classes".
"This initiative responds to playground observations, incidents that may arise, and students' preparedness for learning once they've entered classrooms," the letter said.
But parents said restricting students from using the playground before school started was causing consternation, with many worried that limiting outdoor play would cut back on critical exercise and interaction with other classes and year groups.
"There has been little discussion between the school principal about the restrictions or changes to when children can play in the school playground," a parent said, who has a child in a senior primary year and spoke on the condition of anonymity.
"None of the parents I have come across at the school thinks no play outdoors before school is a good idea," he said.
A spokesperson for the Department of Education said the "initiative has been implemented on a short-term basis in response to school leadership and teacher observations of playground interactions and students' preparedness for learning once they entered classrooms".
The Herald understands Bondi Beach Public is the only school in the area trialling a routine to limit before school outdoor play.
"The trial is one of a number of strategies Bondi Beach Public School has implemented to support positive classroom behaviour and learning. Other examples include having two breaks in the day of a similar length where children can engage in active play if they wish," the spokesperson said.
"Wellbeing data, student comments, and teacher observations, show the trial is having a positive impact."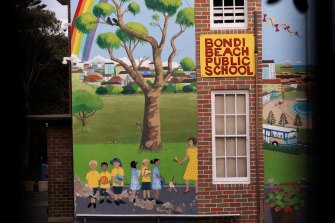 Another parent, who has had three children attend the school over 10 years, said there was concern that children were being "forced to sit quietly in classrooms before the school day starts".
Annie Robin, a parent whose son is in year 4, said after months of COVID-19 disruptions students need to "socialise with other year groups".
"My main frustration is the kids aren't learning to put out fires themselves and deal with conflict in the school playground – they need to be around other kids. They need to be running around burning energy," she said. "Parents are really upset about this."
Under the latest COVID-19 advice, schools are not required to keep students in their class or year group cohorts and there is no need to stagger start and finish times. Schools can also run activities and assemblies with mixed year groups.
Another parent, with two children in different years at Bondi Beach Public, said many restrictions introduced during the pandemic have stayed in place.
"There is indignation in the community. Before COVID-19 kids could show up at school from 8.30am and play in the school yard before the bell went," the parent said. "All stages mixed and it was very sociable. But many of the COVID-19 rules have been kept and it's just hindering kids interaction which is so important while they are preparing for high school."
In a letter to a parent the Bondi Principals Network said the "positive impact of the current routine will be seen over time and therefore, [principal] Ms O'Neill explained the evaluation will not be finalised until the end of the year".
"Ms O'Neill will provide an update to parents once feedback has allowed for appropriate conclusions to be drawn," the letter said.
Our Breaking News Alert will notify you of significant breaking news when it happens. Get it here.
Lucy Carroll
is the education editor at The Sydney Morning Herald. She was previously a health reporter.
Connect via Twitter or email.