'Interstate bromance': How Dom and Dan became Australia's power pairing
On paper, they are an odd couple. One is a factional hardman from Victorian Labor's Socialist Left who has stamped his authority over eight years of leadership. The other is a conservative from the right of the NSW Liberal Party who is new to the job of premier.
But Daniel Andrews and Dominic Perrottet have key things in common. They run powerful states that together are home to more than half of the Australian population and whose service economies drive the country. They are thirsty for reform and willing to take on elements of their own party to make it happen.
Both also face elections within nine months.
Plus, they seem to like each other. "He's a great guy," said Perrottet, who also developed what he described as "a really good bond" with Victorian Treasurer Tim Pallas over their five-odd years of working together, especially during COVID-19.
"It's an interstate bromance," said an ally of Perrottet's.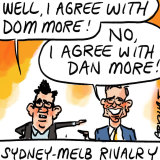 More importantly, however, Dan and Dom are useful to each other. They're both set on meaningful change – particularly in health – and know how difficult it can be. They also know the power of an alliance between governments of different stripes in the country's biggest states.
"If you've got Liberal governments and Labor governments working together it does take a lot of the politics out of it," Perrottet told The Sydney Morning Herald. "Centre Right, Centre Left ... if you're focused on service delivery and outcomes, then there's a lot you have in common.
"And I think if Victoria and NSW work something out – it's more powerful given you've got two [different] political parties there – well then that impacts the country. If NSW and Victoria decide to do something, and we get the support from the Commonwealth to do it, everyone will follow.
"Yes, competitive federalism is important. If you are competing with each other you're looking at doing things better. But one thing I think we've learned from the pandemic is the importance of collaborative federation."
Soon after Perrottet became premier, he and Andrews worked mostly in lockstep as they eased COVID-19 restrictions in their states. They have signalled an intention to band together on health. And on Thursday, both announced an intention to introduce a year of universal pre-kindergarten, complete with a joint statement about "two great states working together".
At his media conference on Thursday, Andrews said he would work with Perrottet when it made sense. "I'm not too fussed what political party you are from, and I get along very well with Dom. He's a good bloke ... he is all about trying to make his state better. I'm trying to do the same here."
A free year of play-based learning before school begins is bold reform that early education experts say is both game-changing and long overdue. School education, a mess of arbitrary divisions between the states and Canberra, could be next. The two men don't agree on everything, however. Victoria has said nothing about following NSW on getting rid of stamp duty.
The alliance will shake the traditional power dynamics in Australia; Canberra has been accustomed to what Perrottet late last year described as a "divide and conquer approach" to federation (former prime minister Tony Abbott described federalism as beset by "rancid partisanship").
Prime Minister Anthony Albanese may want to muscle in on the bromance, too (before the election, he said there needed to be a "clearer delineation of who is responsible for what").
Albanese's first national cabinet meeting is on Friday. "I think we've had a good start," said Perrottet about the new prime minister. "But we'll see. Because there are some real things we need to do as a country. We see health as the most pressing one."
One political observer said Perrottet and Andrews' alliance has "the makings of being a very significant political partnership".
"They don't have to remind people of their power. It's in moving in unison; the rest of the country can't help [but] take notice."
The Morning Edition newsletter is our guide to the day's most important and interesting stories, analysis and insights. Sign up here.
Jordan Baker
is Chief Reporter of The Sydney Morning Herald. She was previously Education Editor.
Connect via Twitter or email.