Leonardo Urbano's kitten Bella was rescued from a pile of junk that would otherwise have ended up in landfill. Using tips from Facebook pages such as Street Bounty, Urbano found nearly every item in the photo, below, on the street, including his playful cat.
These include the brand-new shirt he is wearing, his chair, the framed photo, the fan, the mid-century sideboard and record player, the plant and the replica of an Italian lamp that usually retails for nearly $1000.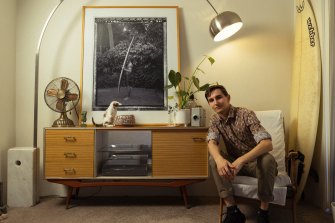 Facebook pages – such as Street Bounty Inner West, Pay It Forward, Buy Nothing, War on Waste, Free Stuff and Free Cycle, which are dedicated to recycling and reusing – went "gangbusters" during the pandemic, said Sam Sachdev, who has been tracking the growth of these hyperlocal sites.
"There are hundreds of these sites. Nearly every suburb in Sydney has a buy, sell or share group. On top of that, they will have free cycle, which is just sharing and no money exchanged. Then there are groups for the north shore or The Hills. And then there's Street Bounty. There are layers on layers. It is all very organic and grassroots.
"The neighbourhood concept had gone out the window before the pandemic, and these groups brought it back," said Sachdev, a former corporate lawyer, who is also a corporate writer and a climate change and sustainability activist in her spare time.
"You do get unusual people - like the person giving away an open pack of cereal, but after all, why waste it?"
Urbano usually draws the line at food, but he has rescued nearly full tins of good olive oil dumped after end-of-apartment leases near his home in Surry Hills in Sydney.
Urbano said he chose his Instagram handle, the Trash Lawyer, because he is "fighting for the rights of trash to live another day" - no matter how. He also has a lending library of tools he has found on the streets that people can borrow to fix found objects.
A spokesperson for Facebook said there was a 13 per cent increase in home furniture listings in 2021 compared with the first year of the pandemic. In June, more than 2 million vintage items were listed on Marketplace, including collectibles, furniture and household items.
Sachdev was surprised by the amount of stuff, often in good condition, that was dumped on the streets or put out for council hard rubbish collection when she returned to live in Australia from Sweden in 2020.
"Rubbish doesn't just go away.
"Preloved in Sweden was a normal part of living, without the preconception that it was only for the poor. There was no shame about it. Somebody might need it, another may want it," she said.
James Cottam, a former photographer turned real estate agent, launched the first Street Bounty site in Australia after his dog Peggy Clark stopped to sniff a 1960s sideboard on Cambridge Street, Newtown, that was in good nick.
When he posted it on Facebook, he was surprised by the interest – 300 people joined on the first weekend. That page, Street Bounty - Inner West (Sydney), has grown to 37,200 members with new pages across the world.
The problem was that these sites grew so fast that Facebook thought they were spam, Cottam said.
In addition to furniture and appliances, these items were offered for free last week:
a dozen bird cages left on a street in Croydon,
the contents of a house about to demolished,
glasses and books for a fruit bottling project that never took off,
materials to make a chicken coop,
boy's underpants washed but never worn,
children's toys including a princess castle (no prince),
brand new CSR Gyprock sheet 2400 x 1200 x 10,
a Herman Miller chair found in a pile of furniture left on a street in Willoughby,
a Kambrook Banquet Frypan (nonstick surface scratched),
Bluey bathers for a two- to three-year-old girl advertised as, "Well worn but plenty of life left for a Bluey fan".
Urbano also made news last month when he found a painting signed by a finalist of this year's Archibald Prize Dapeng Liu, which he plans to cherish and keep. Members of groups such as Street Bounty often stipulate that objects are free on the condition they never go to landfill.
Urbano gives away some finds on Facebook marketplace, and repairs and resells others.
The Morning Edition newsletter is our guide to the day's most important and interesting stories, analysis and insights. Sign up here.