Rugby Australia threatens to cut ties with Kiwis over TV cash split
Addressing a $60 million imbalance in broadcast revenue between Rugby Australia and New Zealand Rugby was a driving force behind RA chairman Hamish McLennan threatening to cut ties and launch a domestic competition in 2024.
As New Zealand prepared for Saturday's Super Rugby Pacific decider between the Blues and the Crusaders, McLennan caused waves on Thursday by revealing he had informed NZR chairman Stewart Mitchell that Australia may walk away from Super Rugby Pacific in 2024.
Australia's broadcast deal with Nine and Stan Sport expires at the end of 2023. A two-year extension is on the table.
McLennan made it clear RA is prepared to cut ties with New Zealand and go it alone in a national competition, similar to the Super Rugby AU competition during the COVID-impacted season of 2020.
Asked to clarify RA's position for the 2024 season, McLennan told the Herald: "Time will tell. We're starting with a clean sheet of paper."
McLennan said Australia could "absolutely" sustain a domestic competition from a financial perspective.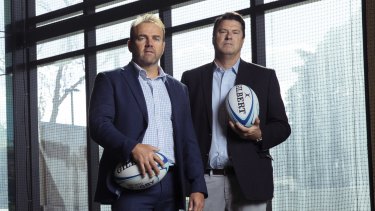 "Look at the ratings when we did Australia only," McLennan said, also pointing to a 40,000-strong crowd at Suncorp Stadium for the Reds-Brumbies final of Super Rugby AU last year.
New Zealand Rugby boss Mark Robinson responded to McLennan's comments brusquely – and with an apparent sledge aimed at the RA chairman.
"From our view, NZR is committed to our relationship with RA and any discussions in relation to the future of Super Rugby will be had first and foremost with them, and not through the media," Robinson told the Herald in a text message.
Sources with knowledge of the situation told the Herald McLennan's "grenade" was part of negotiations between RA and NZR for a better split of broadcast revenue.
In the past, South Africa, Australia and New Zealand pooled their respective broadcast profits for Super Rugby and split it three ways. But since Super Rugby was broken up by COVID-19 and South Africa departed, NZR and RA have no share arrangement for Super Rugby Pacific. NZR have a $89m-per-year deal with Sky, while RA has a $33m-per-year deal with Nine and Stan.
Sources say NZR have indicated they are willing to revisit the revenue split in 2025, but RA wants to bring that forward by two years.
Former All Black Andrew Mehrtens counselled RA against the radical prospect of cutting ties with New Zealand, saying the successful Super Rugby Pacific competition this year had been a superior offering than any of the domestic competitions.
"I don't think it would be in the best interests of Australian rugby to isolate, to be honest," Mehrtens said.
"We have seen what the competition has been like this year. Yes, we know there were crowds that were good last year and supported Super Rugby AU but even more so, I reckon people have got excited about a full unified competition this year.
"Last year was just the context of COVID-19 and people were happy to just see any sport being on. Hamish has got to act in the best interests of Australian rugby and there are negotiations going on constantly, I'd imagine.
"They have a big tailwind with the Rugby World Cups in 2027 and 2029, plus Olympics, so I guess he is feeling Australian rugby stocks are rising generally and he is maybe getting on the front foot a little bit. I would have thought behind the scenes there will be more amicable discussions.
"You can find paths that benefit each country, as well as benefiting the two together, and I am sure they will be working with that. I reckon New Zealand would want to work together.
"I think rugby support in Australia is better served and better channelled and better attracted in the format of Super Rugby we have seen this year. Next year will be even better with, fingers crossed, a fully blended season right from the start."
Wallabies squad member James O'Connor said he favoured keeping the trans-Tasman element.
"That's the first I've heard of that one. It's above my pay grade. I do enjoy travelling over there and playing the Kiwis," O'Connor said.
Watch every match of the July Test Series on the Home of Rugby, Stan Sport. Kicks off Saturday 2 July with Wallabies v England, New Zealand v Ireland, South Africa v Wales and Argentina v Scotland. All streaming ad-free, live and on demand only on Stan Sport.
Iain Payten
is Deputy Sports Editor of the Sydney Morning Herald.
Connect via email.